AST gets Platinum Award of the Sustainability Index
News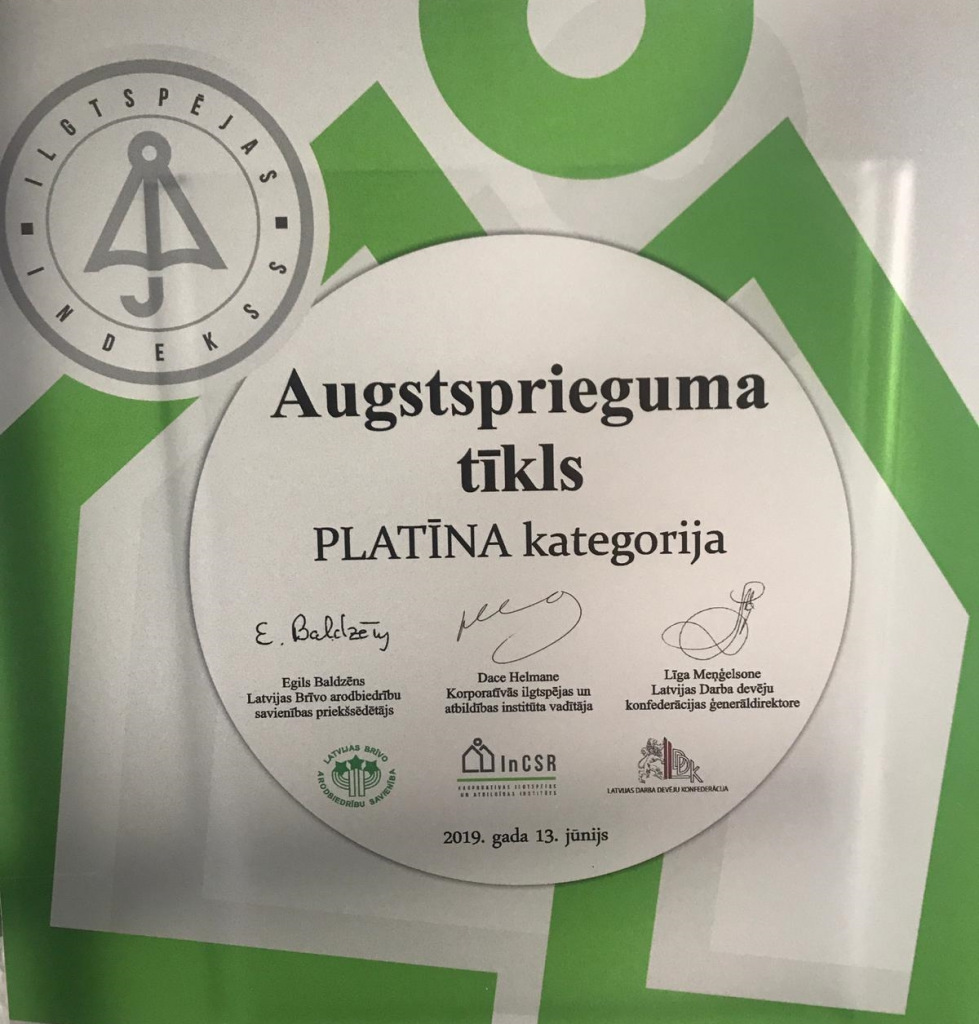 AS "Augstsprieguma tīkls" (AST) got the highest Platinum Award of the Sustainability Index managed by the Corporate Sustainability and Responsibility Institute for the first time, demonstrating compliance of its corporate responsibility level with the strictest of standards, and showing that the company cares about the welfare of its employees and clients.
AST chairman of the board Varis Boks said: "Over the five years that we've been a part of the Sustainability Index, we've managed to grow upwards, reaching the Platinum category, and we are really happy about the award, because it confirms that we have a developed a social responsibility culture and perform well in terms of company sustainability, openness and transparency in operations and communication. I would like to particularly thank our employees, clients and partners for achieving this result."
In addition to the Sustainability Index award, AST got the title of a Family-Friendly Company from the Ministry of Welfare, which considered AST to be a company that cares for and maintains a positive attitude towards its clients, employees, and their families.
AST has participated in the Sustainability Index since 2015. In 2015, it got a Bronze Award, in 2016 and 2017, Silver Awards, becoming a sustainability champion for growing faster than any other of the Index's participants, and getting a Gold Award last year.
The Sustainability Index has been helping Latvian companies assess their performance and find out about necessary improvements for almost ten years. The Sustainability Index is a strategic management tool based on internationally recognised methods that helps companies assess their sustainability and their level of corporate responsibility in five aspects: strategy, market relations, working conditions, society and environment. The partners of this initiative are the Corporate Sustainability and Responsibility Institute, as well as Employers' Confederation of Latvia and the Free Trade Union Confederation of Latvia, acting as national-level social partners.
Companies get the Sustainability Index's Platinum Award if their Sustainability Index rating exceeds 90%; Gold is awarded to those with a 80 – 89.9% rating, Silver, for 60 – 79.9%, and Bronze, for 40 – 59.9%. This year, 19 companies got into the Platinum group, 14 received Gold awards, 15 got Silver, and seven were in the Bronze category.