State Construction Control Bureau of Latvia accepted commissioning of Kurzeme Ring project
Development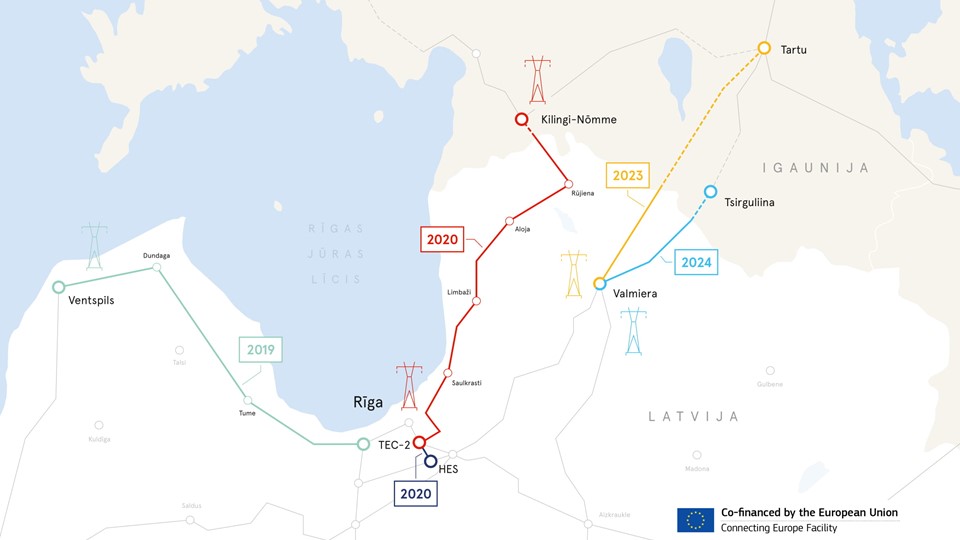 The State Construction Control Bureau of Latvia, as Competent Authority responsible for construction of transmission objects in Latvia accepted commissioning of transmission project Kurzeme Ring stage Ventspils-Tume-Imanta, developed by AS "Augstsprieguma tikls" (AST).
Kurzeme Ring is one of the biggest and ambitious transmission network projects in restored history of Latvia, which significantly improves security of electricity supply in normal modes and during storm conditions, as well as providing possibilities for grid connection for new consumers and producers of electricity in the Kurzeme region.
127 million EUR have been invested in the construction of the third stage of the project from Ventspils to Riga, including 55 million EUR of European Union co-financing from CEF (Connecting Europe Facility) funds. The length of newly constructed 330 kV line is 207 kilometers and it is crossing 11 municipalities. The construction of the line is performed by the partnership of construction companies LEC, RECK and Empower community on order by AST.
Construction of 330kV transmission line and reconstruction of 110 kV electricity transmission lines of Kurzeme Ring in the section Ventspils - Tume - Imanta connects the 330 kV substation "Ventspils" located in 38 Robezu Street in Ventspils, and 330 kV substation "Imanta" in Riga, 25 Kleistu Street, on its way crossing territory of Ventspils city, territories of Ventspils, Dundaga, Talsi, Kandava, Tukums, Engure and Babīte counties, as well as territories of Jurmala and Riga cities. During the reconstruction, the location of the electricity transmission line remained generally within the route of the existing electricity transmission lines.
During the implementation of the Project, the significant investments to the reinforcement of 110kV substations Talsi, Dundaga, Kandava, Valdemārpils have been made, as well as full switchyard reconstruction of 110kV substation Priedaine has been made, while for 110 kV substations Tume, Tukums, Dzintari, Sloka and Kemeri the transit current rating has been increased – with changing of connection bay equipment, busbars, measuring transformers etc. In addition, a new 110kV distribution point – "Kemeri Park" and new 330kV substation "Tume", including new 330/110kV 125MVA autotransformer and new 120MVAr shunt reactor have been constructed, as well as the extension of 330kV substation "Imanta" in Riga has been completed.